DEL ACCEPTS THE CHALLENGE….
AND DELIVERS THE SOLUTION!
In the spring of 2005, Del Packaging was asked to develop a
revolutionary lid plugging system capable of applying an oval
lid to a paperboard container. Del tapped into some of the
technologies that were used in other Del equipment but
challenges still existed. By utilizing our 30 plus years of
experience Del was able to engineer, fabricate and assemble
this new concept lidding system to meet the customer's
aggressive timetable. Del completed the entire project within
nine months!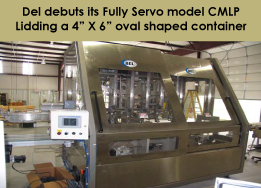 Our customer's innovative package design posed
several challenges.
The container is a soft wall paperboard taking the shape of
the tissues placed inside. Reforming it's oval shape was
required prior to inserting the lid.
The tolerances of the container and lid was so tight special
consideration had to be taken to insure positive placement
of the lid.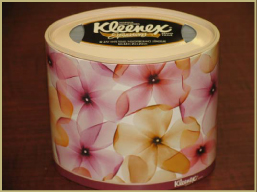 The Right Lid Feeder For The Job
Oval is the most difficult shape to qualify, feed and convey. Del utilized their model RF-6200 Rotary Feeder which offers a large 62" diameter capacity to properly qualify the lids. To eliminate "cam locking" Del employed powered side rails on the conveyors to keep the leading edge of the lid from shifting to side to side.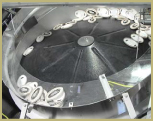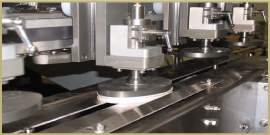 Precision Lid Pick-up
The CMLP utilizes an interchangeable vacuum chuck, powered by a rotary vacuum valve, to pick the lids from the infeed conveyor. The servo controlled vacuum chucks travel on a cam system and ensure precision placement every time.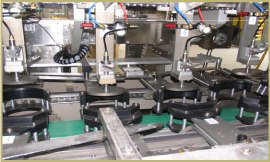 Container Forming
Del designed a precision cradle block system mounted on
horizontal cams which returned the container to its original shape. The top of the block was machined to create a funnel effect to guide the lid into the top of the container with speed and accuracy. The CMLP can pick and apply lids at rates up to 600 CPM with a guaranteed application efficiency rating of 99.9%.