Loaders Pay Off
Automatic loaders are key to reducing costs associated with manual loading of caps and containers. Our models IVCL and VCL-LA loaders are designed to free up operators to perform other functions on the production line. Del's model IVCL loader can store up to 7,500 overcaps (based on a 3" diameter overcap). If your line speed is 200 cpm you will have over 30 minutes of accumulation before the operator has to reload the system.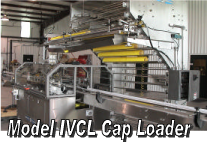 To accommodate the demand of highspeed cup and tub loading applications we offer a Dual VCL-LA loader which can obtain production rates up to 500 containers a minute!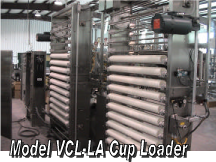 A hopper style cup loader is available for deeply nested containers. Give us a call to determine which loader is best suited for your application.
Automatic Pail Lidding
Del is well known for handling retail size containers but most do not realize we also manufacture pail lidding equipment for institutional size containers.
Our Model LCC-30-PR, uses top and ottom powered stainless steel rollers to positively apply lids up to 30 containers per minute. Ideal for applications up to 5 gallons.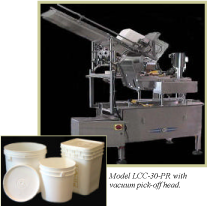 Del's model LCC-10 pail lidder is designed to run pint, quart and gallon containers for rates up to 60 containers per minute.
Both lidders are capable of running pails with or without handles. The frame, safety covers and hardware are all stainless steel. The cabinet is welded and ground smooth to prevent product migration and aide in clean-up.
We offer gravity feed, spinning rod and vacuum pick-off heads to positively extract one cap at a time. Changeovers from one size to the next or from round to square can be accomplished in a matter of minutes.
Think of Del the next time you require automatic pail lidding.