Introducing Del's 2007 Model
ASRL-CC Servo Overcapper!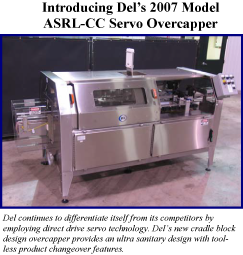 Quick Change
Height Adjustment
Del offers a height adjustment feature standard on all ASRL-CC Servo models. A single point adjustment wheel with readout allows your operators to duplicate multiple height settings within minutes without any guesswork.

Container Diameter Changes can be accomplished in minutes. The specially machined UHMW cradle blocks, used to captivate the container as it passes through the overcapper, are easily removed by pushing out the shear pins. The Timing Screw Infeed is easily accessed for tool-less removal. An operator can replace the timing screw within 2 minutes. The Overcap Chute can be removed and replaced in under 15 minutes.
A complete diameter change can be accomplished within 20 to 30 minutes!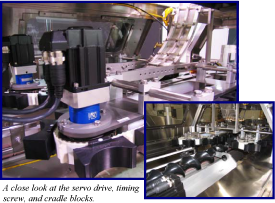 Rotary Cap Feeding System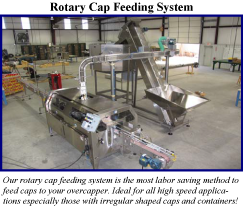 Spinning Rod Cap Feeder with Loader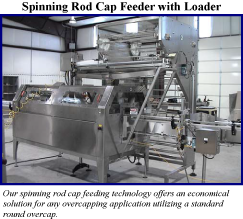 Maintenance Free Design
Del's model ASRL-CC overcapper features direct servo drive motors with optional food grade gearboxes. By eliminating the conventional drive components such as VFD's, motors, shafts, bearings, torque limiters, and linkages, we have reduced the number spare parts you need to keep on hand. The ASRL-CC Servo overcapper is designed to be an extremely quiet drive and virtually maintenance free overcapping system.