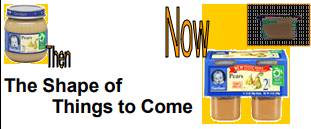 It is well known that DEL does a great job
of feeding and capping round containers and overcaps. But did you know DEL also specializes in
feeding and capping irregular shaped containers
and caps?
Have an odd shaped part that you
can't handle?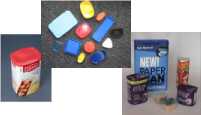 DEL is frequently presented with
challenges from new and existing customers alike
for feeding and overcapping equipment to handle
rectangle, triangle, square, and oblong caps and
containers.
The next time you are faced with the
challenge of finding equipment to feed your "New
and Improved" cap and container design, give DEL
a call to discuss your options.
Turn-Key Approach!
DEL is your single source solution for the
following equipment:
Bulk Loading Elevators
Rotary Part Feeders
Air Conveyors
Servo Controlled Cap/Container Orienters
Overcapping and Lidding Equipment
Restacking Equipment
Unseated Cap—Missing Cap Detectors
Vision Systems
How Do We Do It?
Caps and Parts

Multiple cases of caps or
parts are loaded into
Pre-feeder hopper. Within
minutes the system can be
fully loaded and the
operator is free to perform
other functions on the line.
Tooling within the Rotary Feeder will properly
qualify, orient and feed the caps and parts to such
equipment as overcappers, robotic assembly
equipment, printing
machines and restacking equipment. Del
offers a variety of part
feeders to accommodate virtually any s
Containers
Traditional side belt systems are not
suitable for handling irregular shaped, tapered or
soft wall containers. DEL models ASRL-CC and
SASRC-CC overcappers are designed with infeed
timing screws and cradle blocks machined to the
profile of the container to ensure positive control
over the container before, during and after applying the cap or lid.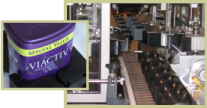 Cost Savings!
A single operator can handle multiple part
feeders and overcapping lines
DEL guarantees that 99.9% of every container
will have a properly applied cap. Thus,
reducing product waste and associated labor
to rework manufactured goods.
Quick change features reduce downtime
associated with product changeovers
Devicenet electrical packages are available to
reduce the amount of time needed to install
and service equipment.