DEL LID PLUGGING SYSTEMS

Del Packaging manufactures systems used to apply all shapes and sizes of internal locking plug type lids. We offer continuous motion and indexing lid plugging systems, designed to run unfilled or product filled containers at speeds of 60 to 600 lids per minute.

Features of Del Lid Plugging Systems:
Industrial quality stainless steel construction
Configured for dry room, wash down, and 3A Dairy
environments
Premium Allen-Bradley PLC controls with optional touch
screen operator interface
Line logic controls and interface
Fault indicators with diagnostics software
Optional "Plug and Play" cabling to reduce overall
installation costs for fast system start-up
All of our lid pluggers are designed to be extremely user
friendly with features to make product changeovers fast and
easy.
Quick Changeover Components:
Quick release lid plunging heads
Split assembly star wheel design
Tool-less changeover infeed timing screw
Height adjustment hand crank with digital readout
Multiple changeover reference points with graduation
scales
Applications:
Aerosol overcaps, shaker top lids, 2-piece rotating lids,
and hinge style lids of all shapes and sizes
Composite, blow molded plastic, metal, and glass
containers with or without handles
Composite, blow molded plastic, metal, and glass
containers with or without handles
RUN AT PEAK PERFORMANCE!
To get more productivity out of your existing system, schedule a Del Packaging Service Technician to conduct an audit of your equipment and make recommendations to bring your equipment back to its peak performance. Del can train your staff to perform preventive maintenance at proper intervals to keep your equipment running reliably and consistently. They can make certain that you have the right combination and amount of electrical and mechanical spare parts on hand to avoid costly down time.
Your equipment may benefit from labor efficient upgrades:
Height Adjustment Feature with Digital Readout Indicator
Diameter Adjustment Feature with Digital Readout Indicator
Automatic Cap Loading System
Missing Cap Detection System
Many retrofits can be accomplished in the field with limited
interruption to your production line.
REFURBISHED EQUIPMENT
Del Packaging buys, sells, and takes trade-ins for all types of used Del equipment. Special care is taken to restore equipment back to its original state. All worn and defective parts are replaced with OEM components and come with a one year warranty. Once restored we issue a minimum performance guarantee ensuring that 99.9% of all containers receive a properly placed overcap.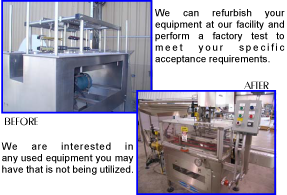 Call Del today to discuss your next lidding, overcapping, cup denesting, conveying, or line integration project.
We look forward to providing you with a sound solution to increase your throughput while at the same time reducing labor expenses.