Membrane Induction Sealer | CMIS | Rotary Continuous Motion
This technology is licensed exclusively to DEL Packaging Ltd. and has an International Patent Pending.
Continuous Motion Induction Sealer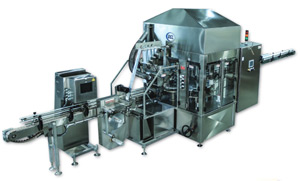 DEL's continuous motion induction sealer features a timing screw infeed, rotary turret, cam actuated induction sealing heads, rotary die cutter, and a very unique vacuum transfer conveyor that transfers the pre-cut membrane to the induction sealing head. This system very accurately applies a membrane to a container with virtually no excess membrane material around the perimeter of the container.
Metalized roll stock membrane materials
Tapered or straight-walled containers
Plastic, metal or composite containers
2" – 6.5" diameter containers
2" – 12" height containers
Round, square or oval shape containers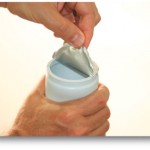 60 to 350 containers per minute (contingent upon size of container)
Stainless steel, non-wash down construction (standard)
440/60/3 power
Designed for multiple size containers (precision change-over) with tooling
Stainless steel, wash-down construction
Servo height adjustment
Conveyors (table top chain)