'STICK'M and STACK'M TEXAS STYLE'
The DEL cap labeling and restacking system is designed to feed a variety of cap sizes for the market, as well as many irregular shaped caps.
This system utilizes a DEL Rotary Feeder, Captivator/ Labeler Base System and a Cap Restacker.
The single motor drive system provides synchronous operation throughout. The variable speed drive may be adjusted to accommodate different line speeds up to 200 Caps Per Minute.

HOW IT WORKS!
Step 1: Orienting the Cap
In this illustration we are feeding and orienting an oval shaped cap. The caps are fed to the bowl by means of an incline conveyor or Bulk Loading Elevator. The BLE practically eliminates the need for an operator at the load end.
The caps are rotated within the bowl by means of an inner disk that creates a centrifugal force and pushes the cap onto the outer bowl ledge. Within the bowl are various components which are used to qualify the caps in a particular orientation prior to exiting the bowl. The Rotary Parts Feeder offers the flexibility of running a wide variety of cap sizes with minimal downtime.

Step 2: Conveying the Cap
Caps exiting the rotary feeder are conveyed to the Labeling Station on a flat top belt conveyor. A section of conveyor contains a vacuum port area to maintain control of the caps through the Labeler and Cap Restacker.
Photo-eye sensors provide line logic to ensure an adequate supply of caps are feeding the Label Station, as well as preventing caps from backing up into the Rotary Feeder.


Step 3: Stabilizing and Labeling the Cap
Positive control and positioning of the oval shaped cap is provided in two parts. The caps are conveyed through a timing screw input and stabilized by split cradle blocks. The cradle block conveying method has proved very successful on many of our over-capping systems for irregular shaped and soft wall containers. Labels are applied using an industry proven labeler and then travel on a flat top conveyor to the Restacker assembly.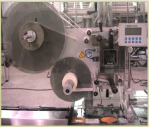 Step 4: Stacking the Cap
After the cap is labeled, it automatically feeds into the stacking system. This system is comprised of a single belt drive assembly, a synchronized lift mechanism and a dual belt lift module that elevates caps smoothly and consistently.
The cap advances one cap at a time into the Restacker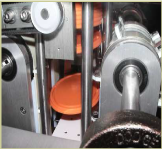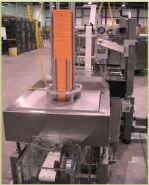 fingers. The fingers provide an even, positive lift creating a stack.
The stack is then moved manually or robotically to the next process.