SANITARY TRAY LIDDING
Del offers a sanitary tray lidding system for food and non-food applications. The full panel access doors make changeovers, cleaning, and regular maintenance quick and easy.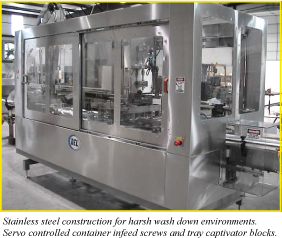 AUTOMATIC LID LOADING
A 14 foot infeed belting conveyor provides ample tray loading capacity to allow an operator time to perform other functions on the line. The "Z" bar pusher shuttles a full load of tray lids into the screw denester magazine.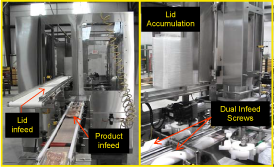 POSITIVE SCREW DENESTING
Four lid denesting screws easily separate a single lid from the stack and places it on to the tray traveling beneath.
BUILT IN FLEXIBILITY
Our tray lidding equipment can be configured for a single package size or with change parts for new shapes and sizes to keep up with future packaging demands.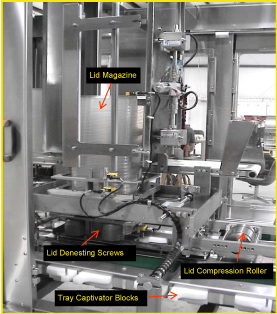 FINISHED PRODUCT

Rates up to 120 per minute with ramp up and down capabilities
Tooling to accommodate Round and Non Round shapes
Paper, Foil, and Plastic materials can be accommodated
Contact us to learn more!
Del provides free evaluation and limited testing of your product to provide the right solution for your application.